TRIVIA:


Here I go with the next antigravity craft.Now with the Coca~Cola sponsor. It´s sad that you can find the in the japan game pack only. ...more info and news at: wipeoutzone forum .

see you there ...

MODEL:

The 3d model of the coke craft was simple. Except the belly of the craft,I used my imagination there.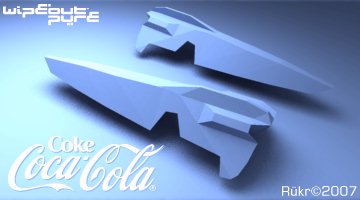 Texturing was little bit weird.I had one small picture only. With red craft and white coca-cola words. So the left side of the craft is completely fictitious.
IN GAME MODEL.... vs............PAPERCRAFT

The model of the Coke craft has 11 parts, Display stand, has 8 parts.So the level of laboriousness is low 2/5. The pdf document with the whole model is located below.

....(click at the picture)
INFO:


The coke.pdf

document including:

.....Original coke antigravity craft

.......Display stand for coke craft

.............................Building plan Document size: 1891kb


WALLPAPER:

As a little bonus..I´ve prepared a PC wallpaper for you.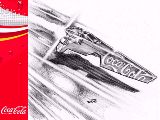 in various sizes... .......Download the resolution you need


640 x 480

800 x 600

1024 x 768

HELP:


For opening and printing the PDF documents you must have the Adobe Acrobat Reader 5 or higher installed in your computer.For downloading the latest version of this freeware go to the Adobe pages.




All Wipeout Pure game materials are Copyright © Sony computer entertainment. & SCEE developer Studio Liverpool These pages are unofficial and non-profit. Rükr ©2007