TRIVIA:


One day in the WIPEOUT-ZONE forum an idea of X-wingish craft was discovered. I´ve grabbed it and here it is-my creation the EXO antigravity craft It is the short word for ExtraOrdinary.

And once again must thanks to guy nicked as

Sausehuhn for creating in-game screenshots for me. (and ..it is one of the easy-build crafts :o))

...more info and news at: wipeoutzone forum .

see you there ...

MODEL:

The 3d model has the similar design for better fit into the world of wipeout crafts.. And easy shape with low-polygon surface for better building.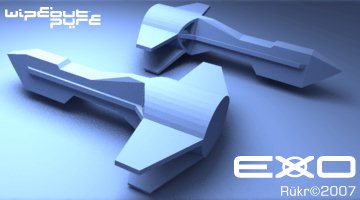 Texturing or coloring was pretty interesting. The team colours must be totally different from other crafts. I´ve decided for green-as the main team color,
combined with yellow and untraditional black. I think that the livery I´ve chosen becomes it.
IDEA..................... vs.......PAPERCRAFT

The model of the one EXO craft has 24 parts, Display stand, designed as a part of the track has 8 parts
.The level of laboriousness is 2/5 thanks to the detailed parts. The pdf document with the whole model is located below.

....(click at the picture)
INFO:


The exo.pdf

document including:

.....Original Exo antigravity craft

.2´nd livery Exo antigravity craft

.......Display stand for Exo craft

............................Building plan Document size: 2606kb


WALLPAPER:

As a little bonus..I´ve prepared a PC wallpaper for you.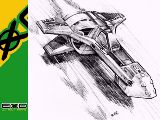 in various sizes... .......Download the resolution you need


640 x 480

800 x 600

1024 x 768

HELP:


For opening and printing the PDF documents you must have the Adobe Acrobat Reader 5 or higher installed in your computer.For downloading the latest version of this freeware go to the Adobe pages.




All Wipeout Pure game materials are Copyright © Sony computer entertainment. & SCEE developer Studio Liverpool These pages are unofficial and non-profit. Rükr ©2007