TRIVIA:


So here is another wipeout team called Assegai . Design of this craft is success.It has a little bit harder shape, but building of it is necessary :o). Only minus what the Wipeout Pure game has, is that the "belly" of the craft is in the shadow (there are black areas), so I´ve must used my fantasy in the creation of under parts of the cockpit and wings.

As ususal must thanks to guy nicked as

Sausehuhn for creating in-game screenshots for me. ...more info and news at: wipeoutzone forum .

see you there ...

MODEL:

The 3d model was a little bit harder. But don´t worry the Assegai craft is one of the easy-ones papermodels..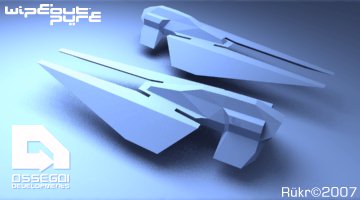 Texturing or coloring of the model wat the easiest part of the whole process. Thanks to the sharp screenshots the job was much easier-again. I must praise myself for this craft...It is really success.
IN GAME MODEL.... vs............PAPERCRAFT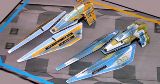 The model of the one Assegai craft has 22 parts, Display stand, designed as a part of the track (Sinucit main color scheme) has 8 parts.Level of laboriousness is 2/5-thanks to the shaped parts. The pdf document with the whole model is located below.

....(click at the picture)
INFO:


The assegai.pdf

document including:

.....Original Assegai antigravity craft

.2´nd livery Assegai antigravity craft

........Display stand for Assegai craft

...................................Building plan Document size: 2960kb


WALLPAPER:

As a little bonus..I´ve prepared a PC wallpaper for you.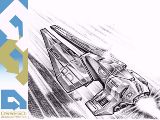 in various sizes... .......Download the resolution you need


640 x 480

800 x 600

1024 x 768

HELP:


For opening and printing the PDF documents you must have the Adobe Acrobat Reader 5 or higher installed in your computer.For downloading the latest version of this freeware go to the Adobe pages.




All Wipeout Pure game materials are Copyright © Sony computer entertainment. & SCEE developer Studio Liverpool These pages are unofficial and non-profit. Rükr ©2007