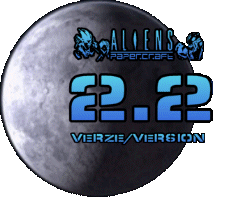 Here is a new "service" update- after year.
First little change is the logo of the pages.
The old one was little lifeless.
I make a digression here. Iīve prepared a page about
forming an Alienspapercraft logo even unused designs through years.
be patient...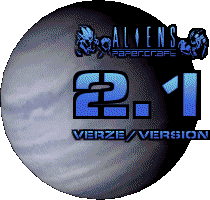 The year and 6 months past and Iīve created first update of new design of ma pages.
It is not a major thing....only few visual and i hope some improvement.
The web has new borders and a little bit (for me & you) of an alleviation.
So...the update named ALIENSPAPERCRAFT 2.1 including:




1.) There is an Extra ledge on the left side.
Including 3 pictures and some text..nothing new only graphic edge of the web..
If you click into it, the interface of Butterfly sattelites appear.
These sattelites are monitoring the surface of the LV-426.
One of them is focused on the U.S.S. Sulaco (3 pictures).:o)))
It can happend,that though time the Extra ledge will display another sattelite
and different quadrant of the planet surface :o)

2.) And we are moving to the right side and on the top right corner of the Info column
you can see the information zone about actual version of the Alienspapercraft web.
(this page)

3.) Ye old known Banner menu was moved from the main page to this position.
Itīs an alternative to the java menu on the left side.
....more at: Changes from previous version.

4.) Here is my first alleviation. It is a WIP updater,
Itīs a basicly info banner of work in progress page.
Explaining:
Everytime you visit Alienspapercraft, simply click onto wip updater you will fast redirect
to the newest project.In the wip updater banner you can see
name, % and update time of the newest project.


5.) Here is my second alleviation. tzv Sections updater,all most same as Wip udateru.
Works on the same principles. He will inform you
about the new sections and thir launch date.
After cilck into it you will be redirected to the necessary section.

6.) The end of the Info column is formed as picture
of the planetoid LV 426 - This time is a screen from the electronic schoolbook,
from the future ....year 2178..for example:o)

Notice that whole Alienspapercraft 2.1 web is moved near to the left corner.
After that on the right side is space accurate for Info column.

Thatīs all for the new things...Info column can be changed during time.
and there can be new wersions like 2.2, 2.3, 2.4... :o)))
Basic question was - graphic changes must be suitable for lower resolution monitors..
.....The resolution border is 1024x768 .....
This is standart resolution today I mean. The proof is this "resolution table" of visitors,
created by Pocitadlo.cz from 2002 to August 11th 2008.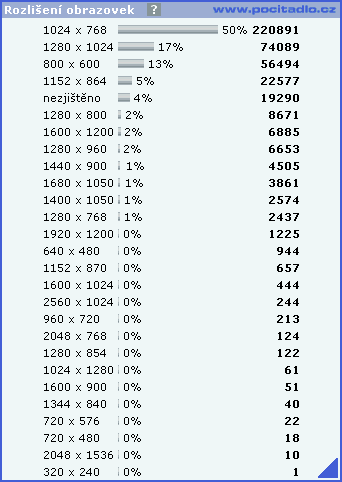 You can interpose, that 800x600 resolution still using 13% of visitors.
Itīs a fact,but as you allready see this resolution is on retreat.
And the table is time-grabber,so there are data from year 2002,
when 800x600 resolution was general.
Holders of this resolution donīt be worry....the web will be shown correctly.
You loose the option of *extra ledge* & *info column only.


resolution: 800x600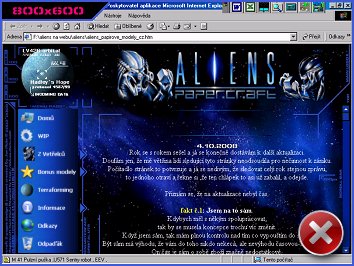 The main page and javascript menu is visible in this resolution.(nothing more)
For people with javascript off is still here the icon Banner menu in the main page
Little bit smaller but still functional.

resolution: 1024x768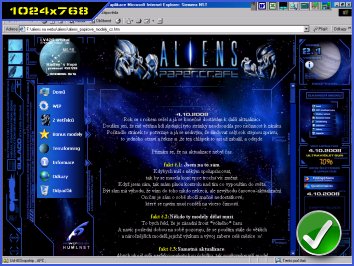 This resolution is most optimal for me.
the whole space of the screen is full.
Extra ledge & Info column are clearly visible and filling the space around main page.
You can use a new features of the web now... :o)


resolution: 1600x1200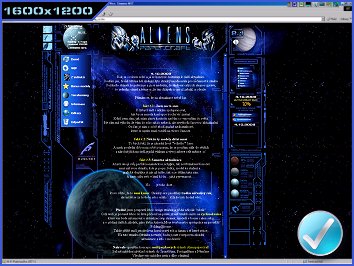 Here is nothing to deal with.For resolutions above 1024 px columns and 768px rows
is Alienspapercraft 2.1 web visible in its full beauty....
There is an Idea about "widescreen" web in the far future.
...or just create second layer of vertical borders...who knows..