If you want to know what new models are avalable in my website right now,
then..just click HERE



So ..itīs finally here.
The UPDATE with lots of changes..the design of pages specially.
The things that doesnīt change ale the papermodels.
The pages will be more tabular, itīs good for BONUS section
because there increase the number of models a little bit faster..
Well the changes are:
Iīm leaving the traditional design with oval buttons and blue logo.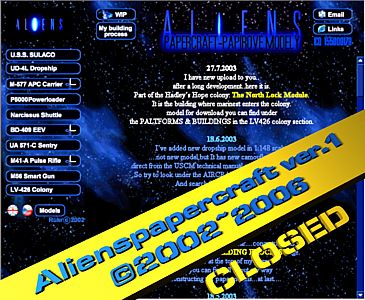 This design works for 4.5 years, but you doesnīt see is the problems with administration.
With the updates specially...I write it down with the source code.
THIS was my first creation....with lots of glitches....:o).

And here it is...the design No.2: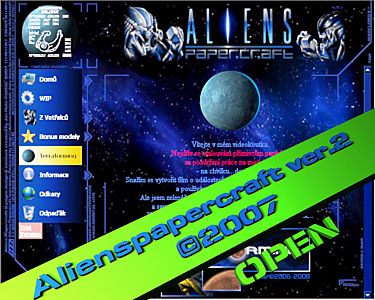 So from April of 2007 the new ALIENSPAPERCRAFT pages are running.
In the first sign you can see a new logo with the alien who combine the paper cube.
and...heīs not so succesfull like predator,that show him his finished-one. :o)
Themes are arranged for better adninistration and dispersion.
For better input the javascript menu is here.(on the left side),
which is simillar to the START menu in the windows system.
how is it working?...look at the gif below:

The only thing you must do is submit all blocked content (in Internet Explorer 5.5, 6 ,7)
for working of this menu...that makes a question of a compatibility with other browsers.
for more info, look in the F.A.Q. -frequently asked questions-section.
To people who doesnīt allow (from scare of the virus
or internet browser settings) the javamenu.Donīt WORRY :O)
For you (and others of course) the simple working banner menu is here.
Itīs nothing more that column of the simple pictures with the links to other pages.
..You know this concept from the BONUS section of the first alienspaperaft pages.
Just click in the icon below and you can surf in the main menu:

next change is:
All RAR archives are without passwords.
New models are converted into the PDF documents,
..so this will erase the scale problem during printing.
And the last change,but not so insignificant is that
the pages are running in RUSSIAN LANGUAGE.
Iīm very gratefull to the Darth Biomech for translation.
You can send your reaction to him into THIS e-mail.
With this step we have 3 laguage mutations of ALIENSPAPERCRAFT:o).

INFO:



Bad news is that the java menu in the russian mutation
is working with the English language only.
The one and only reason is that the java menu from DELUXE-MENU.COM
doesnīt support azbuka letters......itīs a great pity :o(



And for the end: every page has the BACK button..at last.
for better surfing through the pages.