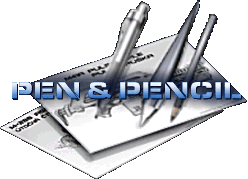 Pen & pencil section, just like other art sections
is splitted on creations before and after year 2000




Pen & pencil are my most used tools.
Sometimes I´m using color pencils too..
but most of the time now I´m working with mouse and tablet.





It happends sometimes, that I find my long lost picture.
Jist like this Lady & mercedes. The picture was approx 6 years sticked
onto garage door and then it was 5 years somewhere outdoor in the wood pile.
Thats why it is look like piece of crap ...I took a photo of it
and then... the picture was destroyed.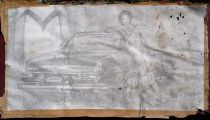 Original does not exist, but i have still the photo of it. One year passed
aan today (3.9.2009) I´ve decided to "renew" it...why?
I think that , this picture is one of few successful things (1997) from that era.
Well..I don´t want to loose it..ok..


Boring work in Paintshop brings some result...the basic drawing is more visible now.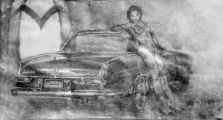 In this point the computer work ends. The picture was printed and
I began to work on it old way:
classical pencil drawing..and ..I thing that,
the "renew" old picture looks pretty good.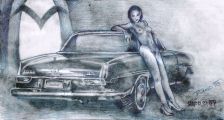 If You want to see more of my creations, then simply go to
my alien99 DeviantArt gallery.




All used materials are Copyright by Jan Rükr ©2009. These pages are informative and non-profit.