TRIVIA:

For 4 years there is floating a discussion thru the ICQ and now thru the Skype too, about papermodel of the Terminator in 1:1!!! scale. The idea is great and I like it,I´m a fan of Terminator endoskeleton. But in the realization of it are standing 3 things:
Time, limited modelling capabilities of AutoCad 2000 and other projects of course...like Wipeout Pure models.

Terminator T-800 is like thin red line in all those " paper"events. Thanx to Roman..alias Killer 22 I´ve returned to this theme. The first thing from the terminator world is small CPU...

Created in 1:1 scale, what else.... and showed in 2 versions of cpu and 2 versions of details. The broken-one from Terminator 1 and the completed-one from Terminator 2 are splitted into 2 versions -easy and hard(detailed) one...... that means 4 models..

If you want to know more,try to look into the www.papirovemodelarstvi.cz into the ostatni modely section.

MODEL:

3d model was easy work. All four versions was done in one afternoon.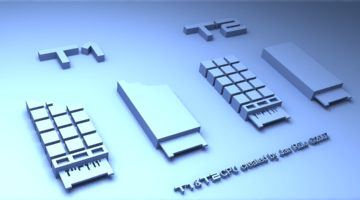 Texturing: 2 days of work..
PATTERN........... vs.........PAPERCRAFT

.Level of laboriousness is 1/5 for easy versions and 3/5 for hard versions, specially for the level of details- small parts.The chip itself has 5.5 cm in lenght. The pdf document with the whole thing is located below.....(click into the picture)

INFO:


terminatorchip.pdf

document including:

....Easy version of the T1 cpu

....Hard version of the T1 cpu

....Easy version of the T2 cpu

....Hard version of the T2 cpu

..........................Building plan The document has: 1138kb


HELP:


For opening and printing the PDF documents you must have the Adobe Acrobat Reader 5 or higher installed in your computer.For downloading the latest version of this freeware go to the Adobe pages.


All Terminator T1 & T2 materials are Copyrighted. These pages are unofficial and non-profit. Rükr ©2007