Terran marine cannon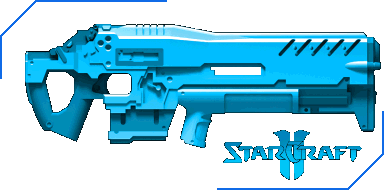 Finally.....The terran marine cannon is placed
in the Alienspapercraft web. This step ends the exclusivity
of czech servers about Starcraft PC game for the pdf documents with this papercraft.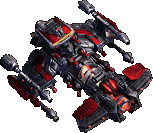 TRIVIA:


The whole project began a year ago (October 2007),
when I noticed that the Blizzard prepare the follower of my favorite game - Starcraft.
I´ve downloaded the "spectacular" Cinematic trailer and I saw it!.
In the last minute of it the terran marine Tychus J. Findlay
holding a real piece of "gun"..
"I WANT IT! - in 1:1 scale if possible:o)."
And it was done.That Idea catched me and never released.
But ,from idea trough some action to finish was really long journey.



There was a limited sources.I had a few trailer shots
and pictures of Tychus statue in poor quality.

A few informations can be found in some pictures of the official game pages.
I mean Starcraft 2.com...well ..see for yourself.

Separate story was logo (a.k.a. artwork) on Tychus left shoulder.
I really wanted the logo for my cannon.
But you know that.Hi-res picture of the"girl wit gun" is totally unreachable.
Current sources: Cinematic trailer (the left picture)
and poor picture of the armor (right cutout).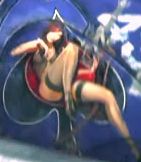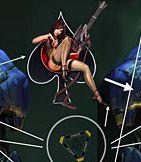 You allready accept , that the artwork is un-usefull in this form.
One thing remains. I took the job of a restorer and gave to the ARTWORK
some pretty "face".
The resolution of my work is below.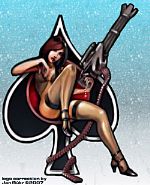 -click to enlarge-
(Tablet work...4 hours...with breaks of course :o)))
...thats all for the documents....


3D MODEL:


3D model was created in Autocadu 2000 Mechanical
and renderd in 3D Studiu Max 5.
The pictures below shows the progress timeline .
(october~november 2007).







(november~december 2007).



Little video for better imagination.


Next video shows the display stand variability.
If you want, you can change the magazine holder for handgrip holder.
And place the gun in different way.





PAPERCRAFT

Display stand was finished in december 2007
And Starcraft fans could download it before Christmas.
There was harder work with the cannon. Prototype was finished in februar 2008,
but it took another 2 long months, for release in the internet (1.5.2008)
And how is it look like in the finish phase?

And another video in poor quality from digital camera of the full papercraft.


Terran marine cannon has 228 parts, Display stand itself has 68 parts.The papercraft has allmost 300 marked parst.
But it is not that hard for completing, so the lab.level 3/5 is optimal. The papercraft has lots of "paper sheets" (it is in 1:1!),
that´s why I separated it into several pdf documents.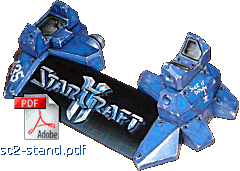 Display stand & instructions.


Tychus J. Findlay´s Terran marine cannon.


- Parts only -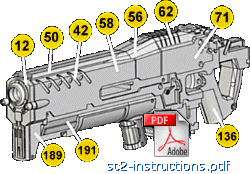 Terran marine cannon instructions.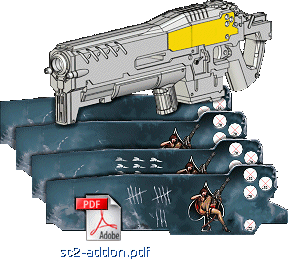 ADDON - Side part of the cannon in four different versions.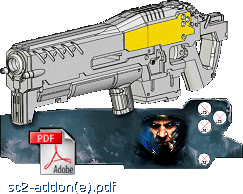 For some Alienspapercraft exclusivity I´ve created one more addon.


INFO:


Stand & inst. sc2-stand.pdf

...............size 1308kb


Cannon - parts sc2-cannon.pdf

.........size 3555kb


Cannon - inst. sc2-instructions.pdf

...size 1644kb


Addon - 4x sc2-addon.pdf

...................size 633kb


Addon extra sc2-addon(e).pdf

.............size 125kb


HELP:


For opening and printing the PDF documents you must have the Adobe Acrobat Reader 5 or higher installed in your computer.For downloading the latest version of this freeware go to the Adobe pages.


ADDITION:


You surely notice that thre are some green parts
in several pages of the papercraft. It is some sort of hidden BONUS
..and without instructions.
So, it´s up to you, if you glue this thing.:o)



Well....have fun..
in building of this extaordiary gun
Yours Alien99....

All Starcraft & Terran materials are Copyright ©

These pages are unofficial and non-profit. Rükr ©2008