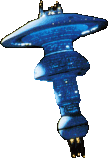 And here is something for STARTREK fans. It is The Starbase...hmm I donīt know from which part of the saga is it....:o/ I must thanks to my friend Cortes Pardo Diego for His technical support and His idea to build this Trekkie model. And second thanks is to Paul van Garderen for His 3D model of the Starbase.. ***

Model is looks easy but it has lots of curved surfaces. so it takes some building skills. Level of laboriousness is 3.5/5.. Model is made in 30 parts with 9 parts of the display stand.

The password is STARBASE...what else and,if you have any problem with the archive,
here you can download WinRar 3.0.0.program.
...You know what to do..:o)



All StarTrek and Starbase materials are Copyright Đ Paramount Pictures. These pages are unofficial and non-profit.