After a long break a new model is here: The Jorden tractor ..
Some of you hear about it first time.,
Special edition of the Aliens is the reason
. Tractor is from unreleased sequence with the live colonists.
In one of them is The Jorden family with old-known little Newt.


The model was little harder for completation.It takes about 8 hours of glue time.
So ..my mark for the laboriousness is in the middle of the field -2,5/5.
There is a lots of small parts, but it´s still possible to cut them out :o). 38marked.
For the scale 1:148 model looks little bigger,
but it is only an illusion..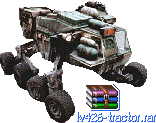 All Alien, Aliens, Alien3 materials are Copyright © Twentieth Century Fox Film Corporation. These pages are unofficial and non-profit.