here is te next model..i called SERVICE ROBOT ..
It is nearby the NORTH LOCK module
and is covered with canvas...
And..sure it is in1:148 scale....


The model is really easy:13 parts in the whole model only.
Model is created in two versions: 1st is the working version .
2nd is the version direct from the movie with canvas...
Level of laboriousness is 1/5 .
= one of the easyest models at my pages...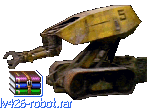 All Alien, Aliens, Alien3 materials are Copyright © Twentieth Century Fox Film Corporation. These pages are unofficial and non-profit.