here is te next model..I think you allready know it. I t is the CRANE ..
and it´s situated neaby the NORTH LOCK module
. And..sure (as always) it is in1:148 scale....


The model is easy:it has 17 parts but there are some
complement parts for the outdoor area of the north lock .
specially the barrels and the entrance lights...
Level of laboriousness is 1/5 .
= one of the easyest models at my pages(again :o))..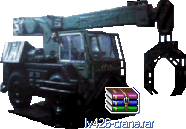 All Alien, Aliens, Alien3 materials are Copyright © Twentieth Century Fox Film Corporation. These pages are unofficial and non-profit.