Next model for colony diorama must be the small APC
In 1:148 scale of course.. what else...:o).


The model is easy:20 parts only,but
it is little bit harder for comletatilon.
you know.....the small parts on the small model.
So I´ve decided to give this papercraft higher level of laboriousness
..so... 2/5 points is optimal..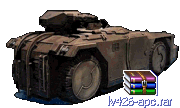 All Alien, Aliens, Alien3 materials are Copyright © Twentieth Century Fox Film Corporation. These pages are unofficial and non-profit.