M577 - APC 27
TRIVIA:




It is 1&1/2 year of hiding the APC 27.
But finally I pushed myself into release this carrier
...suitable for Dropship 27 Loose Moose.
APC 27 carrier has a brand new cannon and specific colour.


PAPERCRAFT:

Papercraft i s simple. It has 20 parts only. Same as other small APCs.
Lab. level is very low 1/5 ..so...enjoy...here it is.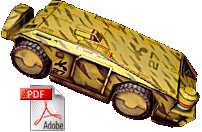 HELP:


For opening and printing the PDF documents you must have the Adobe Acrobat Reader 5 or higher installed in your computer.For downloading the latest version of this freeware go to the Adobe pages.



All Alien, Aliens, Alien3 materials are Copyright © Twentieth Century Fox Film Corporation. These pages are unofficial and non-profit.