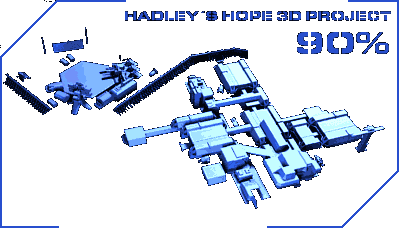 Here is my little secret corner about the 3D model of
HADLEY´S HOPE ,which is the muster for the papermodel in 1:148 scale. After gathering various types of materials (photos) of the colony,
I can create the compete 3D model.North Lock module and partially fictious
landing grid (both allready released) are implemented into the 3d complex
..marked withYellow paint.
The 3d model has 90% look of the complete complex...for now.
,but there are few problems,....the major-one is Time..:o/
and it´s dividing into other projects.I´m building the colony for four years you know..:o)
Next problem is partially dividedness of gathered materials.
There was 3 models created for the movie...ummm 2 models and one scene respective.
......and there are small differences between them.
Important colony model for me is (about 1:60 scale) creation of the whole complex.
Seen in the scene of round flight of the dropship.
Second model (about 1:8 scale) was the main boulevard with bar.
Very nice detailed. Seen in the scene with APONE and his binoculars.
and many other scenes with colonists from S.E. ALIENS.
The last model is the scene in 1:1 scale with the main entrance
of the North Lock module and all the vehicles around.

I´ve prepared couple of renders of present 3d model...
You can judge it for yourself..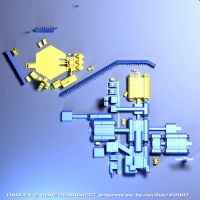 For better imagination is here a little video for you.:o)