Itīs a long time of developing such a big thing like landing grid.
As I said ..it is huge project so the work at this model is so sluggish.
So Iīve decided to public some of the structures nearby
and the landing platform of the Landing grid area .


The structures are easy to build.They have 92 parts together.
This is 2nd part of the LV426 colony complex diorama.
Level of laboriousness is 2/5.
And.. it is in 1:148 scale....as always :o)
The landing platform can be fasten with LEDīs..


And you can make some light effects like in this test videoclip :o)

It has 2.6 Megs.
***
But the main thing is here: the Landing grid fragments are
ready for download.......and completing :o)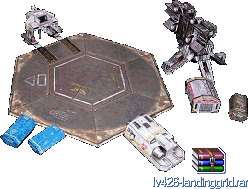 All Alien, Aliens, Alien3 materials are Copyright Đ Twentieth Century Fox Film Corporation. These pages are unofficial and non-profit.