APC...also called Marine transport is Tank like vehicle.
Dropship can drop the carrier in few seconds from it´s bay.
M-577 APC and UD-4L Cheyenne Dropship are designed
as tandem,so...bolth models will be in scale to each other also.


As you can see from pictures above,
model is quite simple.126 parts only.
The level of laboriousness is about ..3/5.. I think.
There are some little bugs in the model so be patient.My first....
So ...what are you waiting for...Download now...:o)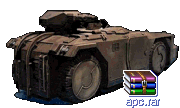 If you have any problem with apc.rar archive
here you can download WinRar 3.0.0.program.



All Alien, Aliens, Alien3 materials are Copyright © Twentieth Century Fox Film Corporation. These pages are unofficial and non-profit.