Welcome to my corner named "My building process" or my way of constucting the paper models. I am using 3 "easy" programs to reach the effect of nice looking model.....:o). 1) Ad first ist the Autodeskīs AutoCAD 2000 in which Iīm creating 3d models or opening 3ds files (3d Studio files) from Internet.......

NOTE: In this point you can use another 3D construction program ......AutoCAD 2000 is not the only option
2) Ad second is Jun Mitani unfolding program for 3D models called Tenkai..... This program is most important fo my work. It unfolding 3ds and dxf files (3D models of course) into flat sheet of "virtual paper"..... Itīs creator wrote: With Tenkai , you can generate unfolded pattern . for papercrafts using 3D geometric data on computer easily and quickly. Well you can satisfy yourself at his pages.And there is a new trial version of Tenkai ready for download....Here is the link Pepakura Designer is his follower.


INFO: I am using free trial unregistered version ..Tenkai 1.4.0a 3) Ad third you need some painting program.Like Paintshop or Photoshop......or painting in windows.:o)I am using old (1995) program called PaintShop Pro 3.12 It is shareware version but the 30 days trial is deactivated somehow.. You can download it from my pages ..If you want..here it is:

Itīs self extracting archive..without installing.So after extracting go simple to the folder with paintshop and double click at the PSP.exe

NOTE: You can surely use another program,that getīs to you. .....Paintshop is not the only option..:o)
..........Now you have all the components you need.......... From this point you can create your own papercraft......well...this is my way.... a) From web you can download various 3d models in 3DS or DXF format... It must be the 3DS when you will be using AutoCad........ Iīm not using this way...anymore....Good example is my unfinished DROPSHIP.... Iīve downloaded really good model of the dropship in 3ds format from the web.... But the 3D model in 3DS format from the net has created by somebody else (not by yourself) carry 3 really big problems ....the autor constructing the model for another usage and not for unfolding as a paper model......so the problems of the web models are: Problem No.1) The model is made with high level of details............... Itīs not good for unfolding in Tenkai Problem No.2) The model is made from small numbel of the objects.. It means,that high detailed parts of the model are together in one object Itīs not good for unfolding in Tenkai too. Problem No.3) Is called : how I will find the leading edge of two objects....Itīs mean,that: Itīs hard to find the leading edge ... when the objets have intersection ...This is imprtant for you papermodel. Tenkai unfold both objets,but the object intersection is still there and you donīt know how the objects in"paper form" put together. I was the problem of the DROSHIP,thatīs why Iīve holded this project I must build the DROPSHIP whole again.....:o(((( For example: this is the model of the M-41 Pulse Rifle downloaded from internet And with all that problems explained above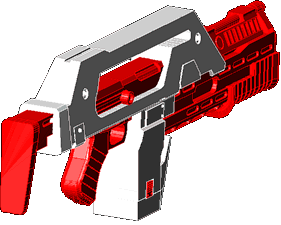 b) And this is my way....this is my model in which I eliminated all that... three problems.You can designed the whole thing by yourself.... You can put some of yours ideas into the model and looks nearly the same like original from internet...:O)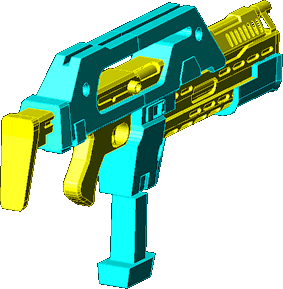 Eliminating of problem No.1 and 2) Keep in mind that your model must have low level of details or high level of objects.. For comparation ---look at these two detaled pictures. left is my model, the right is from the internet.... Iīm trying to reduce the level of detail to optimal borders for future unfolding in Tenkai program..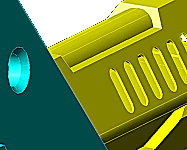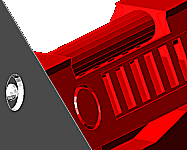 Eliminating of problem No.3) This elimination is most important for your future constructing of the papermodels !!!.. You must build the 3D model in the same way like you completing the papermodel It means NO INTERSECTION BETWEEN TWO OBJECTS!!! The problem is explained below....Both models (My and from the internet) have in this detail the same group of the objects,but if you move one object in horizontal axis you will see the main difference. Objects in the net model have an intersection between the red and grey object. In other side my model have no intersection between yellow and blue object... The objects have contact of the surfaces only...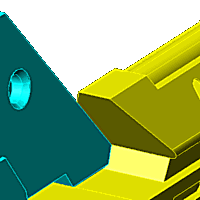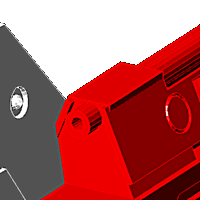 ....And now you are fully ready to construct your own papermodel... in this point you have completed your own 3D model without "problems"......... So ...how to do the papermodel of it???.....HERE IS MY BUILDING PROCESS.
At first you must choose a part (object) of your model for future unfolding. Tenkai can make ONE OBJECT only.Because all that following procedures: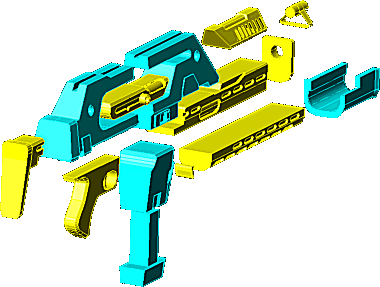 The selected part copy from the configuration and paste in to the new drawing. Like DRAW.DWG...Then this part export into the 3DS format = DRAW.3DS ...From now you can delete the part from the DRAW.DWG...it is unusual.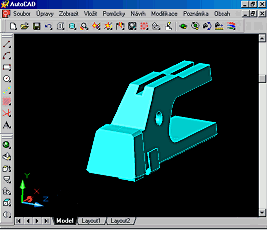 Now.. import the DRAW.3DS into blank DRAW.DWG drawing. Well now you have fully polygoned model into the Autocad drawing. And now save this drawing as the DXF file ...so it will be DRAW.DXF.. The DXF format is the best for Tenkai Unfolding program.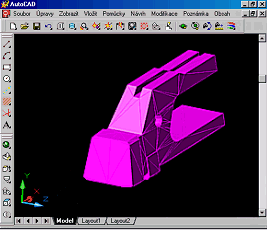 Here is the happyer part of the process. In Tenkai you can unfold the DXF format file into the flat "paper" sheet....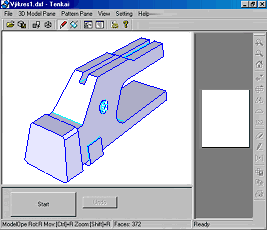 You will obtain a BITMAP file.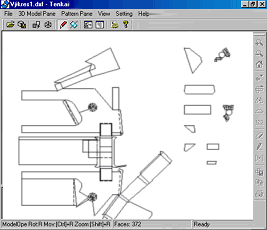 This bitmap you can colored in various drawing programs I am using Paint Shop Pro.In this program Iīm drawing the textures, the final places of the parts and numbers of the parts.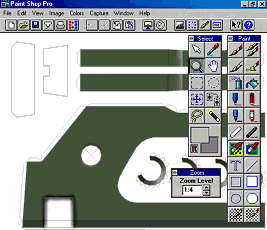 NOTE: If you have registered version of Tenkai and Youīve created the 3D model with the textures..You dont need the last step.
THIS IS ALL...This is my secret of building the papermodels. And now you can create a papercraft by yourself. HAPPY BUILDING
Allused programs are Copyright of their respective holders. Autodesk AutoCAD 2000 Tenkai 1.4.0a Paint Shop 3.12 These pages are unofficial and non-profit.